A Ringing In My Ears That's Heaven-Sent

by Bill Tuomala

<![if !supportEmptyParas]> <![endif]>

<![if !supportEmptyParas]> <![endif]>

Of all places, I first heard "Sometime To Return" on KQRS. It was a sunny spring afternoon in 1988, I was in my car pulling up to my parents's place where I lived, and suddenly the deejay said he would be playing "the new one from Soul Asylum." Huh? And the song burst out of the classic rock monolith. It was the "single" off of their forthcoming album Hang Time. I couldn't believe the brilliant sound of it: clean without being overproduced, anthemic, joyous, and with just the right amount of bravado. Also in there was some sort of a promise between friends. I couldn't wait to hear the full album.

<![if !supportEmptyParas]> <![endif]>

I bought Hang Time at the Wayzata Down in the Valley store, which over the past year or so had become a regular stop in my attempts to cure boredom. Working there was an attractive, olive-skinned girl my age who had previously complimented my purchases. Needless to say, I was scared of her. This was a type of girl that I was unfamiliar with: A foxy one who worked in a record store. The clerks at the cool stores up in Grand Forks had tended to be male burnouts in their late twenties and thirties. And this Wayzata girl - her name was Mira or something similarly exotic - loved that I was buying Hang Time. We chatted about the band a bit* - she had asked if I had been to their recent First Avenue show and I had to confess that I had not. She found that curious, but proceeded to say that they had straight-up apologized for the eight-dollar cover. Oh, and they had covered Prince's "The Cross." Damn! Upon hearing this report, I just knew that I had to see the band live. This cause was furthered as the album became a vital part of the summer's soundtrack.

<![if !supportEmptyParas]> <![endif]>

On a Saturday night in September after being stood up for a date the evening before, I went down to the Cabooze for a Soul Asylum show in hopes that it could salvage the weekend. I was nervous as this was my first time at this bar and it was only my second show out all by myself. I stood in line on the sidewalk while the girls in front of me shared a can of Old Milwaukee and talked about a boyfriend. I worried that I wouldn't get in, but eventually the line picked up speed and I paid cover and entered the bar. I caught the very end of the opening band's set and then settled in for the Geardaddies, who had prompted Rock & Roll Confidential to declare: "Forget Soul Asylum, this is Minneapolis's best band." <![if !vml]>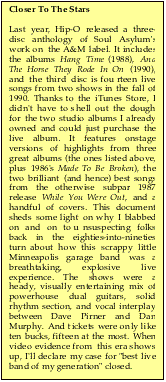 <![endif]>They were hypnotic and their performance sent me off on a months-long search for their debut album Let's Go Scare Al.
The guy in front of me would occasionally drawl out a "Soulllll Asylum" to his buddy, both of them smoking cigarettes and smiling in anticipation. This repeated mantra got to me quick in a good way: I just knew that these guys had seen the band before and had loved them. Soon enough - though it seemed like forever - I found out for myself. Soul Asylum hit the stage and was all energy: Loud and magical and dynamic and Pirner's hair and I had never seen anything quite like it in a small club. A definite landmark in my life as a rock 'n' roll fan - it would lead me to see them many times in the next few years, their shows damn-near mandatory in my book. I can't remember much more about this show, I think in part because no one I knew was into the band and hence I had no opportunities to repeat stories of the show over beers. I had been living in town for just over a year and didn't have many friends here. But with my little world now expanded to rock 'n' roll clubs, the future was looking to be in fine form.
<![if !supportEmptyParas]> <![endif]>
<![if !supportEmptyParas]> <![endif]>
<![if !supportEmptyParas]> <![endif]>
<![if !supportEmptyParas]> <![endif]>
<![if !supportFootnotes]>
---
<![endif]>